Latest news
Puppy Training
Puppy training and socialisation course. A 6 week course designed to assist and advise owners.
More

New Course Dates
For a list of the latest dates when our Foundation, Bronze, Silver, and Gold Gundog training courses will commence.
More

Mullenscote Dogs on Tour 2019
Mullenscote Dogs on Tour dates are shortly to be published on the site, so watch this space.
More

Great Deals
Great Deals on Hunters Wellingtons and Chudleys Dog Food .... with link to products page
More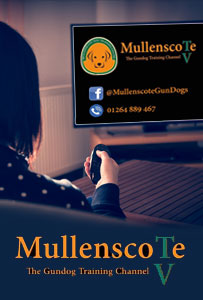 NEW!!!!
MULLENSCOTE TV
Weekly training tutorials, news, views & interviews. The Mullenscote Training Team will keep you up to speed with their training tips & techniques.

All of this for just £30 per year. To subscribe press the 'PAY NOW' button and follow the links.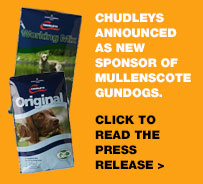 Read archive news here

Welcome to Mullenscote Gundogs and Puppy and
Companion Dog Training Courses
Howard Kirby has been training dogs for more than twenty years, as the proprietor he divides his time between Mullenscote Dog Training Centre and Lains Shooting School.
Howard leads the team at Mullenscote and specialises in training and assisting handlers to get the best from their dogs. Howard and his Mullenscote Dog Training Team can be seen right across the country giving demonstrations and running clinics and seminars.
"Training a dog can be a fantastic experience, our job at Mullenscote is to ensure dog owners get professional advice that is personalised and relevant to their individual dog and circumstances," says Howard.
Howard started training dogs after being given a black Labrador – he named her Margot as she seemed rather aloof like the character in The Good Life comedy series – at Christmas, 1987.
Adapting the popular saying: "A dog is for life, not just for Christmas", Howard soon found that his Christmas dog became a way of life. He trained her using his own instincts and friends and family were impressed with what he achieved. He found himself training their dogs and in 1989 opened Lains Shooting School and Mullenscote Gun Dogs at Quarley.
Lains and Mullenscote are very much family businesses. Working alongside Howard are his father, mother, stepfather, brother, and sister-in-law, not to mention son Charlie.


ONLINE COURSES
Here at Mullenscote Dog Training Centre we are delighted to be able to announce that we now offer Level 1 Puppy, Level 1 Foundation and Level 2 Novice On-line Dog Training Courses.
Training owners to train their dogs is our specialty, so we fully understand the importance of starting and maintaining your dog's training. We have been working hard behind the scenes to create an online course that delivers exciting, informative and educational dog training. Each course is packed with over 30 videos designed to explain in detail how to live with, and train your dog. Your on-line teacher will lead you throughout the course, carefully introducing and explaining each video as you progress through the course.
The course is divided into units so it's easy to follow, work at your own pace and you can revisit each element as many times as you like. Unlimited access to each course is just £60.
We hope this will help to enable you all to start and continue providing the best training for your puppies/dogs, until we can recommence Group classes here at Mullenscote.
If the exciting new Online Dog Training Courses are of interest, please go to our Online Courses page which can be found under Lessons and Courses at the top page, give us a call on 01264 889467 or email howard@lainsshootingschool.co.uk and we can arrange to get you enrolled.
If you have any further queries please do not hesitate to contact James or Kelly on 01264 889467.
Best Wishes
The Mullenscote Team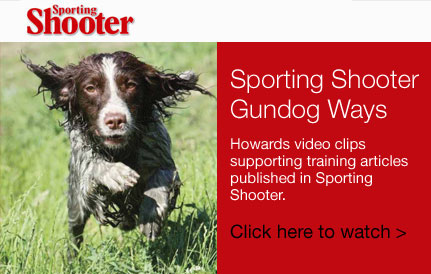 Lains Shooting School
Lains Shooting School was founded in 1987. The Shooting School offers the discerning shooter the opportunity to shoot a variety of targets from the grounds 50 traps in a relaxed countryside atmosphere.
Click here to visit website

Facebook/Twitter